Looking to improve the appearance of a double chin or improve the overall contour of your lower face? CoolSculpting targets the fat layer to reduce fullness and sagging under the chin.
Who is a candidate for CoolSculpting Double Chin?
CoolSculpting is a great option if you are looking to improve the appearance of your under chin area. Specifically, CoolSculpting is designed for those with excess submental (under chin) fat, which causes the appearance of a double chin. CoolSculpting is most effective for individuals with a moderate amount of excess fat under the chin and who are at or near their ideal body weight. It is not a weight loss solution or replacement for a healthy lifestyle, but CoolSculpting is a useful tool for targeting specific areas of fat and improving overall contour.
How CoolSculpting Double Chin Works
CoolSculpting uses controlled cooling to freeze and eliminate fat cells from the body without downtime. The treatment works by using an applicator that is specifically designed for the chin area to deliver controlled cooling, causing the fat cells to freeze and die off. The body naturally eliminates these dead fat cells over the course of several weeks through the lymphatic system, resulting in a reduction of fat in the treated area. There may be mild redness immediately after treatment, which typically subsides within an hour, and you can return to work and normal daily activities right away. On average, two treatments, spaced 6-8 weeks apart, are recommended for optimal results.
Benefits of CoolSculpting for Double Chin
One of the main benefits of CoolSculpting is that it is non-surgical, meaning it does not require incisions or anesthesia. This makes it a much safer and cost-effective alternative to liposuction and other surgical procedures for fat reduction. It is more convenient than other non-surgical treatments, such as Kybella, which involves injections and typically requires several visits, each leading to redness, swelling, itchiness, and other possible side effects.
Double Chin CoolSculpting Before and After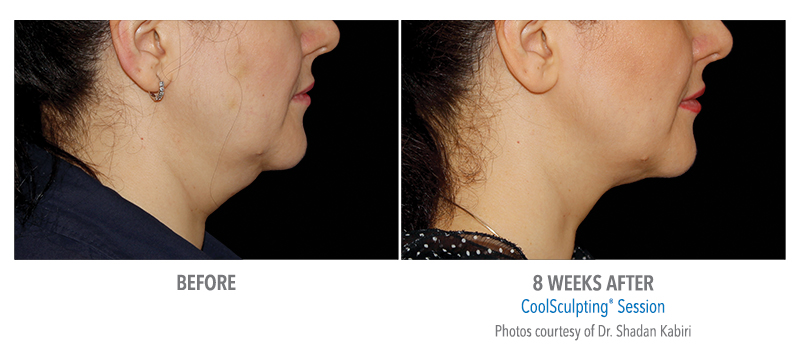 CoolSculpting Double Chin Cost
The cost of CoolSculpting for double chin can vary based on the size and shape of the area being treated, your goals, the location, and the experience of the provider. At the time of your consultation, the CoolSculpting specialist will perform and assessment to determine the placement and quantity of applicators required, as well as the number of sessions you will need for best results. On average, the cost of treatment averages about $750-$1,000 per session, depending on your individual case.
FDA-Approved to Address Under Chin Concerns
CoolSculpting is FDA-approved for non-invasive reduction of fat on several areas of the body, including under the chin. Officially, CoolSculpting is FDA-cleared for "the treatment of visible fat bulges in the submental (under the chin) and submandibular (under the jawline) areas" as well as FDA-cleared "to affect the appearance of lax tissue with submental area treatments". This means that CoolSculpting can improve the appearance of a double chin by reducing the fat layer in the area, leading to a more sculpted and less saggy appearance.
Work with an Approved CoolSculpting Provider
If you are considering CoolSculpting for your double chin treatment, it is important to consult with a qualified practitioner to determine if the treatment is right for you. Aesthetic Center of New Jersey is an approved CoolSculpting practice in Franklin Lakes, NJ. Each of our CoolSculpting providers are CoolSculpting Certified, licensed aesthetic nurses or estheticians. We will be able to assess your individual needs and help you develop a treatment plan that meets your goals.
Ready to get rid of that stubborn double chin?
CoolSculpting is a safe and effective option for reducing fat in the double chin area and improving the overall contour of the lower face. It is non-invasive, involves no downtime, and has minimal side effects. Contact us today to schedule your CoolSculpting consultation and to determine if you are a candidate for this highly effective treatment!