Quick, Long-Lasting Results
Quick, Long-Lasting Results
Introducing DAXXIFY®, the Newest Botox Alternative
Just over 20 years ago, Botox was approved by the FDA for temporary cosmetic treatment of frown lines, also known as "11" lines. It was the first product of its kind to receive FDA approval, jumpstarting the growth of a rapidly-expanding market. Today, Botox is joined by Xeomin, Dysport, Juveau, and now DAXXIFY®.

DAXXIFY® is the latest injectable product to join the club of wrinkle-reducing injections, also known as wrinkle-relaxers, anti-wrinkle injections, or more formally, neuromodulators. These injectable products, which are marketed in the US under the Botox, Xeomin, Dysport, and Juveau brand names, are used to temporarily improve the appearance of dynamic wrinkles, which include frown lines, forehead lines, and crow's feet. Each of these products are variants of botulinum toxin A. DAXXIFY® is scientifically labeled as DaxibotulinumtoxinA-lanm.
Treats moderate to severe frown lines, forehead lines, and crow's feet

The only peptide-powered wrinkle-relaxer injection

Rapid improvement, long-lasting results

96% of people treated with DAXXIFY® were satisfied with their results

No downtime needed
DAXXIFY® Before & After Results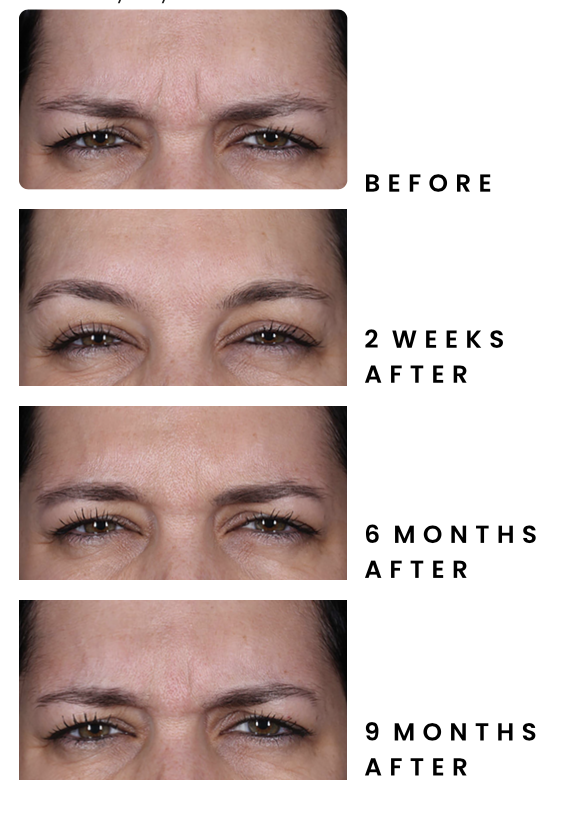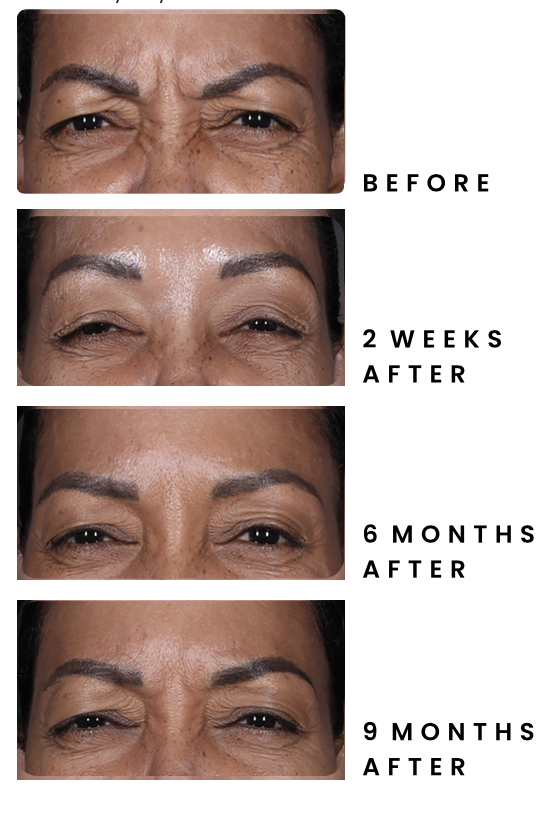 DAXXIFY® for Forehead Lines and Frown Lines
There are several factors responsible for the formation of lines and wrinkles on the face. Wrinkles on the forehead, as well as frown lines and crow's feet, are known as dynamic wrinkles because they are formed as a result of repetitive muscle movements. As you make normal expressions, including talking, laughing, smiling, squinting, and raising your eyebrows in surprise, the overlying skin creases, leading to the formation of wrinkles. Natural loss of collagen, cellular changes, genetics, sun damage, and environmental damage all play a part in your skin's propensity to develop wrinkles.
How long does DAXXIFY® last?
DAXXIFY® is designed to last longer than other wrinkle-relaxing injections such as Botox, Xeomin, and Dysport. According to the results of clinical trials, at least 50% of patients had none or mild frown lines for 6 months or longer after treatment. About 3-5% of patients had none or mild frown lines at 9 months, and 5-17% of patients had not returned to baseline severity at 9 months. 
What does this mean? About 50% of patients will experience a longer duration of results from DAXXIFY® than Botox, Xeomin, and Dysport, while 50% will not. We believe the peptides are resulting in longer lasting results for many patients, but at this time, we don't know exactly why some patients experience more longevity than others.
DAXXIFY® Clinical Study Results
DAXXIFY® was studied in the largest-ever clinical study for a frown line treatment. This study included more than 2,800 people across different ages and skin types, and here are some of the findings:
There were no serious treatment-related side effects.

The active ingredient in DAXXIFY® is botulinum toxin type A, an ingredient that has been used in frown line treatments for more than 20 years.

96% of people treated with DAXXIFY® were satisfied with their results.
Clinical trial results prove that DAXXIFY® injections are safe, as the treatment caused no serious treatment-related side effects in the study. Individual experiences vary, but as with any wrinkle-relaxer injections, mild swelling and bruising is possible. It is important to speak with your trusted injector before receiving a treatment to discuss the possible risks or side effects.
The exact cost of DAXXIFY® varies based on the individual, the areas of treatment, the dose needed, and the injector. During a complimentary consultation at Aesthetic Center of New Jersey, you will discuss the cost of DAXXIFY® for your case with one of our experienced injectors. If we determine that this treatment is right for you, we will customize a plan that meets your aesthetic goals.
When will DAXXIFY® become available?
Approved by the FDA in fall 2022, DAXXIFY® is currently cleared for use in the United States. The rollout of this product is limited to exclusive plastic surgery, dermatology, and medical aesthetic practices. Aesthetic Center of New Jersey is a proud to be one of the early Exclusive Providers of Daxxify.
Ready to smooth out lines and wrinkles? Aesthetic Center of New Jersey the leading DAXXIFY® provider in Franklin Lakes, NJ. Call us at 877-750-0020 or text us at 201-425-0825 to schedule a complimentary consultation.