Say goodbye to unwanted hair on the body and face with laser hair removal.
Laser hair removal is a great solution for unwanted hair. While the results from shaving, waxing, and tweezing are short-lived, the results from laser hair removal are long-lasting. Lasers can be used to remove hair on the face, as well as many areas of the body, including legs, back, underarms, and bikini line. Our experts will determine which of our 3 advanced laser technologies will provide the best results for your particular skin color and hair texture.

Safe and effective laser hair technologies for all skin types.
We have 3 FDA-cleared lasers designed for a variety of skin types. Some lasers work best on lighter skin tones, while others work best on darker skin tones. By selecting the ideal technology for your skin, we are able to deliver hair removal results safely and effectively. 

Laser hair treatments destroy hair follicles.
Our FDA-cleared lasers pulse highly concentrated light beams into the hair follicles. Each pulse of the laser takes a fraction of a second and targets many hairs at the same time. The pigment in the follicles absorbs the light, which destroys the hair. Our lasers target the hair while leaving the surrounding skin undamaged.
Our cool-tip devices make laser hair removal treatments comfortable.
Unlike many traditional laser hair devices that allow excessive heat to build up within the skin, our devices are designed to keep the skin cool. Each of our lasers has a metal tip that is continually cooled. We also use a cold-air chiller for sensitive areas. Most patients report that our treatments are completely comfortable, while delivering excellent results.

How much does laser hair removal cost in New Jersey?
Looking for laser hair removal in New Jersey? The cost of laser hair removal depends on the areas of treatment, the number of treatments required, the credentials of the practitioner, and the individal practice and location. Call us at 877-750-0020 or text us at 201-425-0825 for a quote or to schedule a complimentary consultation.

Laser Hair Removal Before & After Results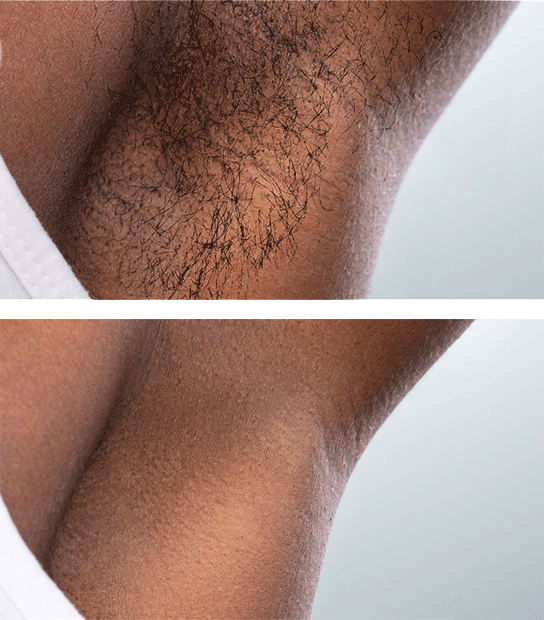 Bikini
Brazilian
Full Legs
Upper Legs
Lower Legs
Underarms
Chest
Back
Abdomen
Arms
Upper Lip
Lower Face
Chin
Sideburns
Full Face