What causes thinning hair in women? 
For women, the most common causes of hair loss include genetics, stress, aging, pregnancy, and medical conditions such as thyroid disorders. According to the American Academy of Dermatology, about 50% of women expereince androgenetic alopecia, a genetic/hereditary condition that causes female pattern hair loss.
In the case of female pattern hair loss, hair follicles shrink over time. As each individual hair is shed, it is replaced by a thinner, finer hair. Eventually, these follicles stop growing hair entirely. Hair thinning due to stress, Covid-19, pregnancy, aging, and medical conditions also lead to a similar process taking place.
Thankfully, most female hair loss cases can be improved or reversed with treatments. It is important to address hair thinning before it becomes severe. We offer a wide range of proven solutions, from in-clinic treatments to at-home therapies and neutraceuticals.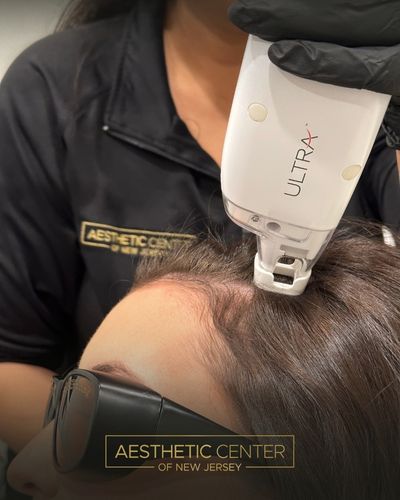 What are the treatment options for thinning hair?
Historically, treatment options for hair loss in women include medications, which have frequent side effects, and in severe cases, hair transplants, which require long surgical procedures and downtime. While these have historically been popular methods, neither are ideal for most female hair loss cases.

Advances in neutraceuticals, which are natural-based alternatives to pharmaceuticals, have shown promising results for women. Supplements such as Nutrafol have been clinically proven to help improve hair growth by delivering key vitamins, nutrients, and other beneficial natural compounds.
Research in the past decade has also demonstrated benefits of low-level light therapy (LLLT) for treatment of hair loss by improving nutrient flow to the follicles and prolonging the growth phase of the hair cycle. LLLT is a simple at-home treatment that is effective on many female hair loss cases.
Form women with visible thinning, non-surgical treatments such as PRP hair restoration and, more recently, KeraLase hair restoration, have become favorable for improvement of hair loss. With these treatments, growth factors are used to stimulate and nourish the hair follicles to promote growth.
Customized combination therapies deliver superior results.
While any of the treatments mentioned above are likely to promote hair growth in many women, it is important to select the optimal combination of treatments for best results and long-term benefits. At Aesthetic Center of New Jersey, our hair growth programs are tailored to each individual. We'll help you select the right treatments for your needs.

In-Clinic
Treatments
for Hair
Growth
Advanced laser technology and proprietary biomimetic growth factors produce next-level results with no needles or surgery.
PRP Hair Restoration uses platelet-rich plasma from your own blood to stimulate new hair growth and thicken existing follicles.
At-Home
Treatments
for Hair
Growth
Clinically-studied low level light therapy helps improve nutrient flow to hair follicles while lengthening the hair cycle. Just 7 minutes per day at home.
KeraFactor
KeraFactor Scalp Stimulating Solution and KeraFactor Shampoo & Conditioner nourish the scalp with proprietary growth factors to promote hair growth.
Nutraceutical
Supplements
for Hair
Growth
The 100% drug-free, clinically effective hair growth supplement lessens hair thinning and visibly improves hair growth, thickness, and scalp health. The #1 dermatologist recommended hair nutraceutical.
Hair Growth & Repair Supplement
Comprehensive, 100% natural hair food complex contains amino-acids, vitamins, minerals, and Ayurvedic medicinal plants to revitalize thin hair, strengthen roots, and promote hair growth.
Womens Hair Rejuvenation
Before & After Results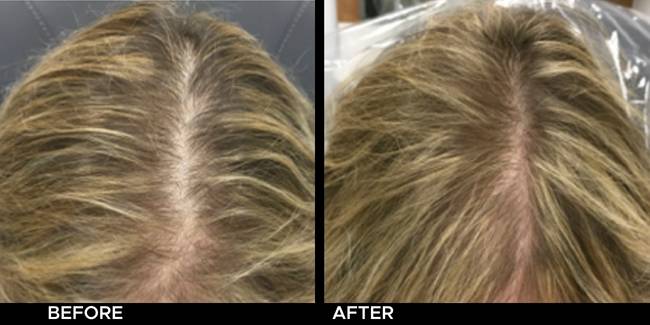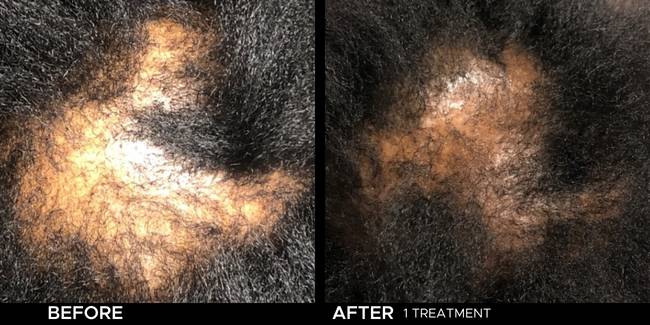 Hair Rejuvenation for Women FAQs