Game-changing hair restoration system for next-level results.
KeraLase Hair Restoration is the latest innovation in non-surgical hair restoration. By combining an advanced laser with proprietary biomimetic growth factors, we deliver superior hair growth results on thinning hair with no downtime.
Key advantages of Keralase:
Superior results using KeraFactorMD Serum, which contains optimized growth factors and proteins with a 5x higher concentration compared to PRP.
Reduced appointment time of 30 minutes, versus 90 minutes with PRP hair treatments.
Painless treatment involves no blood draws, microneedling, or injections and requires no numbing or sedatives.
Painless method delivers optimized growth factors to the scalp for better hair growth.
The goal of the Keralase treatment is to deliver nourishing growth factors, peptides, and proteins into the scalp to nourish the hair follicles, thereby increasing follicle size, lengthening the hair cycle, and improving overall hair growth.
In just several minutes, the advanced LaseMD Ultra laser painlessly creates tiny microchannels in the scalp. Then, the proprietary KeraFactor growth factor serum is applied topically. We are proud to be one of the first practices in America to use KeraFactorMD, the brand-new treatment serum designed for next-level results. The microchannels created by the laser allow the highly concentrated growth factors to penetrate into the scalp and activate hair follicles.
Synergistic treatment combinations boost hair growth.
At Aesthetic Center of New Jersey, we believe that combining multiple treatments delivers better hair restoration results than any one treatment alone. That's why we develop customized treatment plans for each individual. These plans often include an initial series of Keralase treatments, plus take-home solutions such as clinically-proven Nutrafol hair growth supplements and KeraFactor growth-factor products.
KeraLase Before & After Results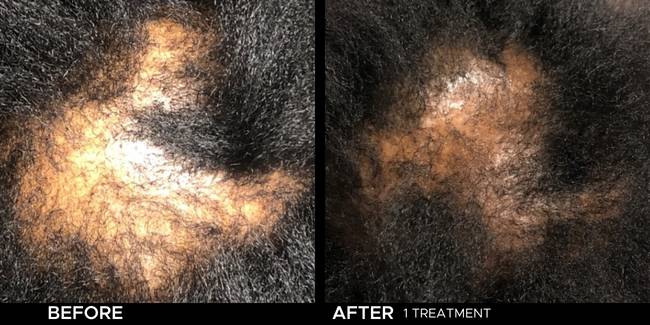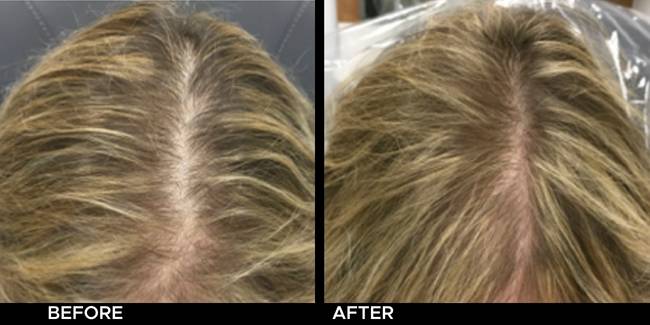 The procedure involves using a specific laser to create tiny microchannels in the scalp. These microchannels provide a pathway that allows for increased absorption of small molecules. We then infuse the KeraFactorMD Treatment Serum, which contains these strategically selected growth factors and proteins, into the microchannels. With each treatment in the series, the scalp and hair follicles are nourished, progressively increasing hair growth over the course of 3-6 months.
How does Keralase compare to PRP? While both of these treatments have the same goal – to deliver growth factors to the scalp – they have some key differences. After many years of PRP being used as the primary non-invasive hair restoration treatment across the world, Keralase was developed as a new and improved alternative. In place of using PRP derived from your own blood, Keralase uses a proprietary growth factor serum. And in place of microneedling and traditional injections that are used to improve the absorption of PRP, the Keralase treatment uses a specific laser to create microchannels in the scalp.
Although PRP has the advantage of being a time-tested treatment, Keralase has a few key advantages: the growth factor serum used in Keralase treatments has a higher concentration of selected growth factors, for better results; the Keralase treatment involves no microneedling or injections, so is nearly painless; the Keralase treatment does not requre a blood draw, blood preparation, or numbing, so it reduces the total time per visit from about 90 minutes (PRP) to about 30 minutes (Keralase).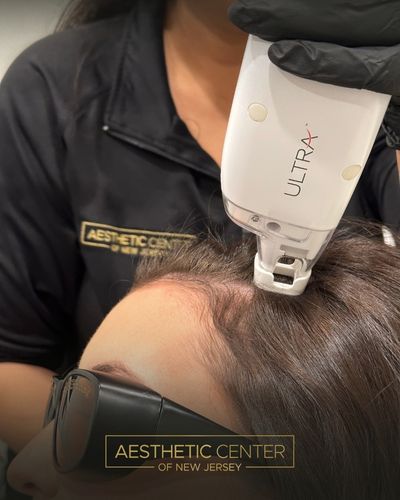 Who is a good candidate for treatment?
Keralase is a great choice for both men and women with mild to moderate hair thinning. For men, common areas of concern are the front hairline, top of the head, and the crown. For women, noticeable thinning along the part of the hair, the crown, or the front hairline are common. We have seen much success in treating each of these areas of concern using Keralase on both men and women. The convenient delivery system of proprietary nano-liposome-wrapped growth factors and proteins makes Keralase both highly effective and extremely convenient, as there is no downtime and the treatments are quick and painless.
Keralase home care protocol boosts overall benefits.
In addition to the in-clinic treatments, we strongly advise the use of the KeraFactor serum and KeraFactor shampoo products, which are available at our clinic. These products contain the same proprietary growth factors that are used in the clinical treatment, just in a lower concentration. That means the products help continually deliver necessary compounds to the hair follicles each day while being safe for home use.
Hair restoration treatments that fit your busy schedule.
One of the leading benefits of Keralase Hair Restoration is the minimal downtime associated with each treatment. You can expect some redness on the scalp after treatment, but you can return to most normal activities immediately. Treatments are typcially spaced about 4 weeks apart and take just 30 minutes.
Get started with KeraLase Hair Restoration in New Jersey today.
Call us at 877-750-0020 or text us at 201-425-0825 to schedule a complimentary consultation. We'll set you up with a treatment plan that's ideal for your hair growth goals.
KeraLase Hair Restoration FAQs