As the world of aesthetics advances and the demand for hair growth solutions rapidly expands, new and improved treatments for thinning hair continually come to market. But which ones are actually worthwhile? Keep reading to find out if Keralase is the right choice for your hair.  
About Keralase Treatment
Keralase is a relatively new, innovative treatment designed to encourage hair growth using a combination of advanced laser technology and proprietary growth factors. The treatments are designed to improve on existing treatment options, such as PRP Hair Restoration, with the goal of being simple, painless, and highly effective.
How KeraLase Works
Keralase hair restoration treatments are designed to flood the scalp and hair follicles with a high concentration of growth factors, which help stimulate the growth of new hair. This is done by creating tiny microchannels in the scalp – smaller than the eye can see. These microchannels act as a pathway for the growth factors, which are applied topically, to enter the scalp.
Creating Microchannels with the LaseMD Ultra Laser
The Keralase protocol requires the use of a specific aesthetic laser, the LaseMD Ultra by Lutronic. While this laser is most commonly used for skin rejuvenation, there are settings which allow this laser to create microscopic channels in the scalp without causing unnecessary damage. During the treatment, the practitioner will carefully and methodically use the laser to create these microchannels in the areas of thinning hair. This process takes just 10-15 minutes in most cases.
Stimulating Hair Growth with KeraFactor Serum
Once the microchannels have been created with the laser, the practitioner will topically apply the KeraFactor Serum to the scalp. This serum contains a high concentration of proprietary biomimetic growth factors – a synthetic iteration of the body's naturally occurring growth factors – designed to optimize hair growth. The practitioner will thoroughly massage the serum into the scalp for about 5 minutes to encourage maximum absorption through the microchannels. Once completed, the treatment is over – it's that simple.
The Science Behind KeraFactor Serum
The KeraFactor treatment serums contain a high concentration of the Kerafactor Peptide Complex, a proprietary formulation for hair growth. This Complex contains a specific selection and concentration of synthetic growth factors and skin proteins, with each concentration computed based on inherent growth factor deficiencies in the skin during times of hair loss or poor hair health. Each peptide is wrapped in a nanoliposome-protected carrier for optimum absorption into the scalp after the laser treatment. As of October 2022, the company has released an updated formulation, the KeraFactor Peptide Complex MD. This new formula features several strategic improvements to the original formula for boosted results. It is important to note that the original formulation is still available to practitioners and the new formulation carries a higher cost, so we recommend that you verify that your Keralase practitioner uses the latest treatment serum and protocols.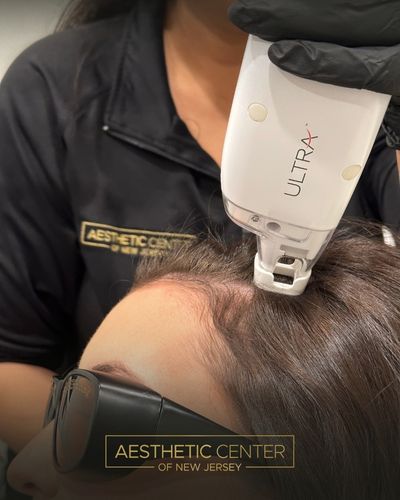 Keralase Downtime and Post-Treatment Care
Designed to be as convenient as possible, Keralase treatments require minimal post-treatment care and downtime. Most people can return to normal daily activities, including work, immediately after treatment. You can expect some redness and a warm sensation on the scalp following the treatment, which subsides gradually over the next few hours. To maximize absorption of growth factors, it is typically advised to avoid washing the hair until the following day. It is also important to avoid direct sun exposure, exercise, and sweat for about 2 days. These instructions are very similar to those of other non-invasive hair restoration treatments, but with slightly reduced timeframes.
KeraLase Treatment Results
Early clinical evidence has shown that KeraLase is capable of producing excellent results on a variety of thinning hair types. As with other treatments, results take time to develop. While early growth can be seen as early as a month after treatment, full results will become visible about 3-6 months after the series of treatments.
Keralase vs. Other Hair Restoration Treatments
Keralase is designed to improve upon the concept of PRP Hair Restoration by reducing pain and downtime while improving efficacy. By using a laser to create channels in the scalp rather than using a microneedling pen and traditional needles, pain and downtime are reduced. The KeraFactor growth factors are designed to mimic the naturally occurring contents of platelet-rich plasma (PRP), but without the "bad" growth factors and with 5 times the concentration. Clinical evidence supports the theory that the use of these biomimetic growth factors does promote more hair growth than their naturally-occurring counterparts.
Keralase Treatment Cost
As with most aesthetic treatments, the cost of Keralase varies based on a variety of factors. The number of treatments, experience of the practitioner, location, and specific practice will all influence the cost. The cost averages about $1,000 per treatment nationally, but since a series is needed in order to see results, most practices offer packages that substantially reduce the cost per treatment.
Conclusion
The Keralase treatment for thinning hair shows a lot of promise. The use of the optimized, highly-concentrated KeraFactor growth factors has demonstrated excellent clinical results thus far. And the nearly-painless treatments and minimal downtime make it a very appealing option for many who suffer from thinning hair.
At Aesthetic Center of New Jersey, Keralase is our go-to in-office treatment for those with thinning hair and busy schedules. We are one of the first practices in America to use the updated KeraFactor MD treatment serum. Keralase delivers many of the same benefits of PRP Hair Restoration, without pain and with reduced downtime.  Call us at 877-750-0020 or text us at 201-425-0825 to schedule a complimentary consultation to determine if Keralase is right for you.